With the Australian Open in our rear view mirror, Tennis fans at Noogata (that's right – there's at least 2 of us!) are excited to serve up some eCommerce trends and findings in the sports equipment space.
Spikes in eCommerce searches and sales tend to be attributed to either Seasonality (think: increased sunscreen sales every June) or Events (think: increased searches for "Spiderman lunchbox" on premier night). However, our latest analysis of over 4,400 of the most prominent search terms and keywords used on North American eCommerce platforms when looking for tennis-related sporting goods showed that sports retailers need to account for both.
Seasonality
Analysis of tennis-related search terms revealed a consistent spike of tennis goods every June, and an even larger spike in September. This is likely attributed to the bi-seasonality of the sport. A return to high school and collegiate tennis, plus the 700k+ viewers of the US Open every August and September result in an increased interest in new rackets and equipment. This activity is mirrored in the beginning of the summer (June) as amateur players prepare for camps and tournaments, and viewers tune into the French Open and Wimbledon.
Events
Noogata's recent analysis also revealed event-based spikes in search volume. Most recently, we saw 47 times as many searches for "Rafael Nadal" and his products the day of his record-breaking win at the Australian Open than the day prior. However, the staying-power of event triggered searches does not compare to seasonality – this spike quickly normalized after just three days. Events like this are harder to anticipate, but can yield a massive increase in sales if eCommerce strategy is effectively planned.
Takeaways
Preparation is the Name of the Game – Online sports retailers should be aware of upcoming events, tournaments, and potential records and optimize their content accordingly at least a month in advance
Gambling Can Pay Off – Seasonality is reliable, but predicting and nailing Event-based spikes can yield massive returns on eCommerce strategy
Watch That Tennis Elbow – Sports trends aren't just important for sporting goods, increased search volume in "Tennis Racket" and "Tennis Balls" almost directly correlates with searches for "Ice Packs" and "Elbow Brace"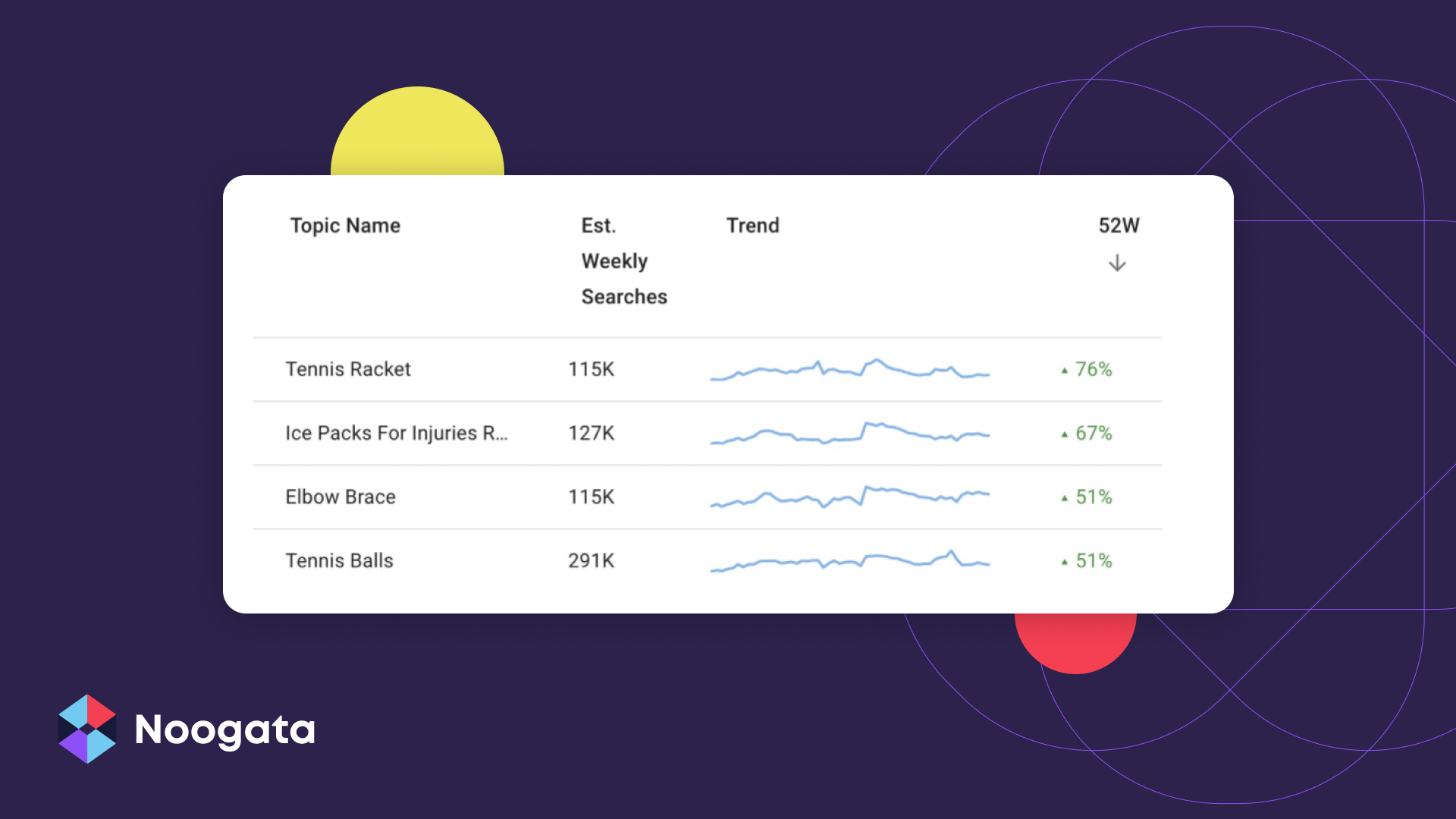 Source: Noogata
How We Found This Data
The analyses referenced in this blog were created using Noogata's eCommerce Library, which provides data-driven insights.
We used the following blocks:
Trendspotting:Identifies and analyzes consumer search trends related to product categories.
Search Term Discovery:Delivers search terms for a list of products, providing visibility into seasonal trends, multi-language search terms, and event-driven activity.
Topic Analysis: Uncovers patterns in consumer search behaviors by bundling searches by consumer buying intent.
Want to see how Noogata's products can help you rank higher for relevant search terms and see how your product listings compare to competitors in minutes?